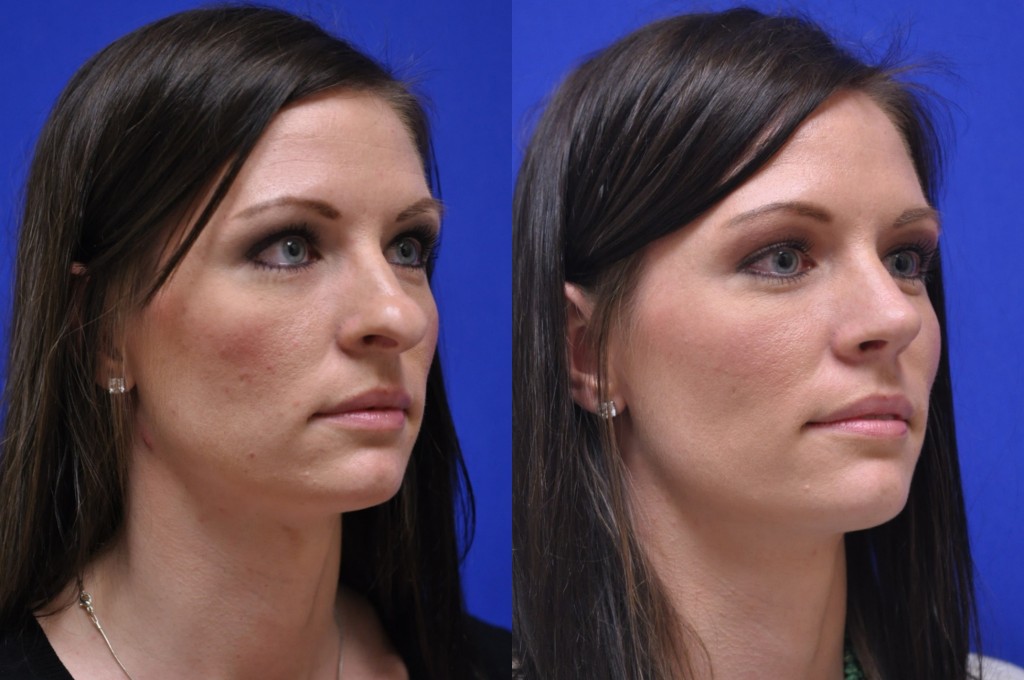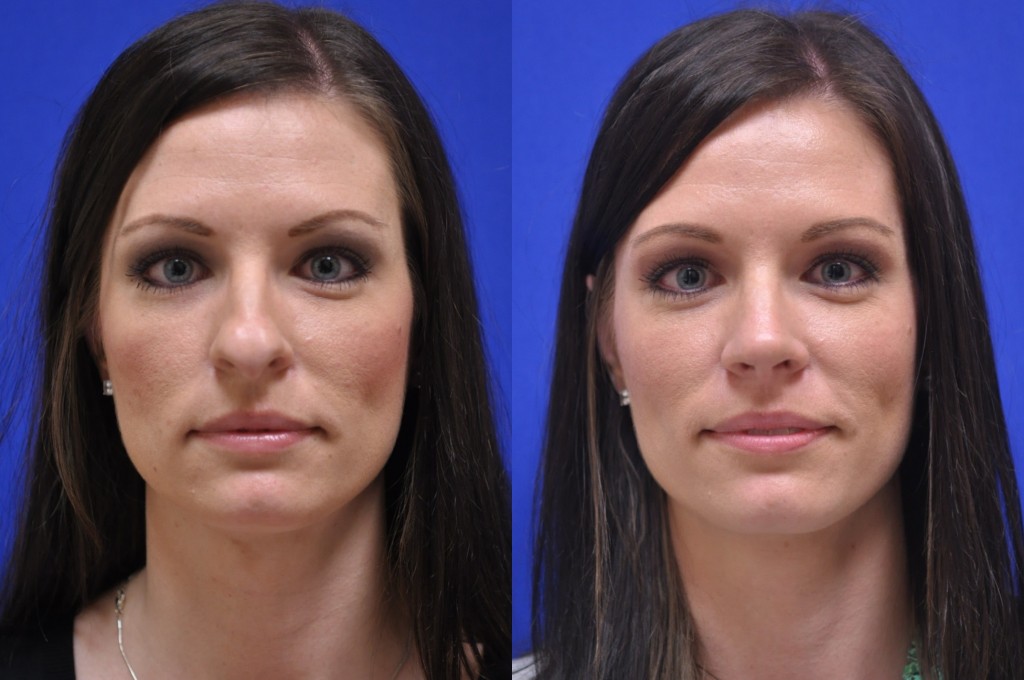 Copyright  J. Todd Andrews, M.D   Rhinoplasty Patient of J. Todd Andrews, MD
As the central esthetic focal point of the face, the nose plays an important role in contributing to or detracting from facial attractiveness. Cosmetic nasal surgery can address a variety of conditions including a hump on the nasal bridge, an unwanted shape of the nasal tip, a crooked nose, and more, allowing the nose to fit more harmoniously with the rest of the face.
Most patients are often surprised to discover that rhinoplasty (the surgery to change the appearance of the nose) is among the most difficult operations to perform in plastic surgery.  The degree of difficulty associated with rhinoplasty surgery is due to the fact that the anatomy, which defines the appearance of the nose, varies significantly from patient to patient. As the anatomy varies, so must the techniques used for optimal correction be modified, too.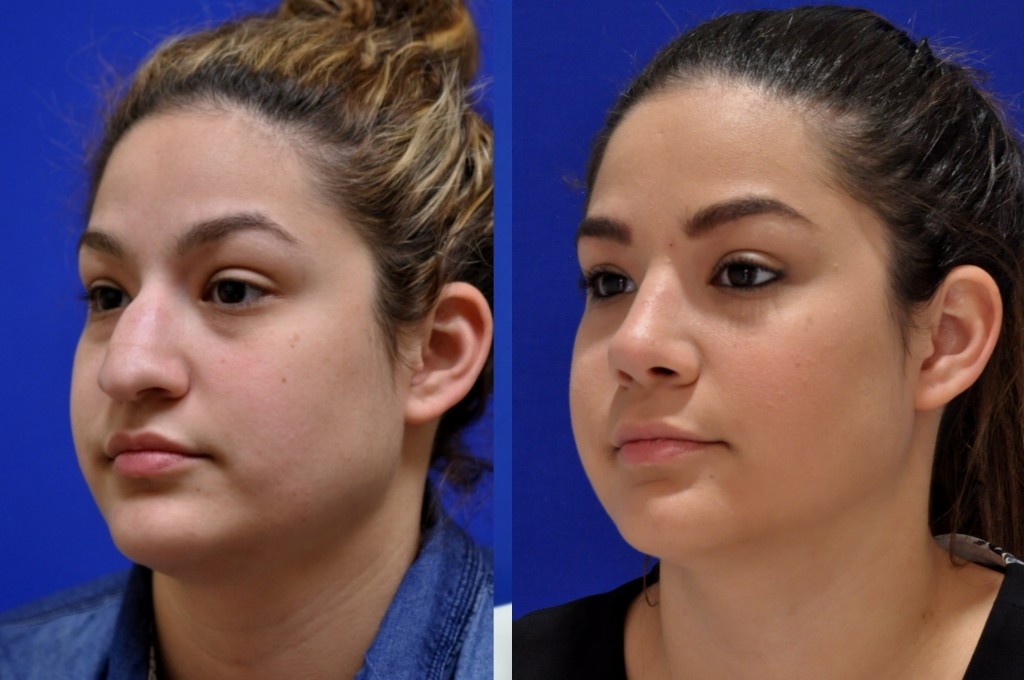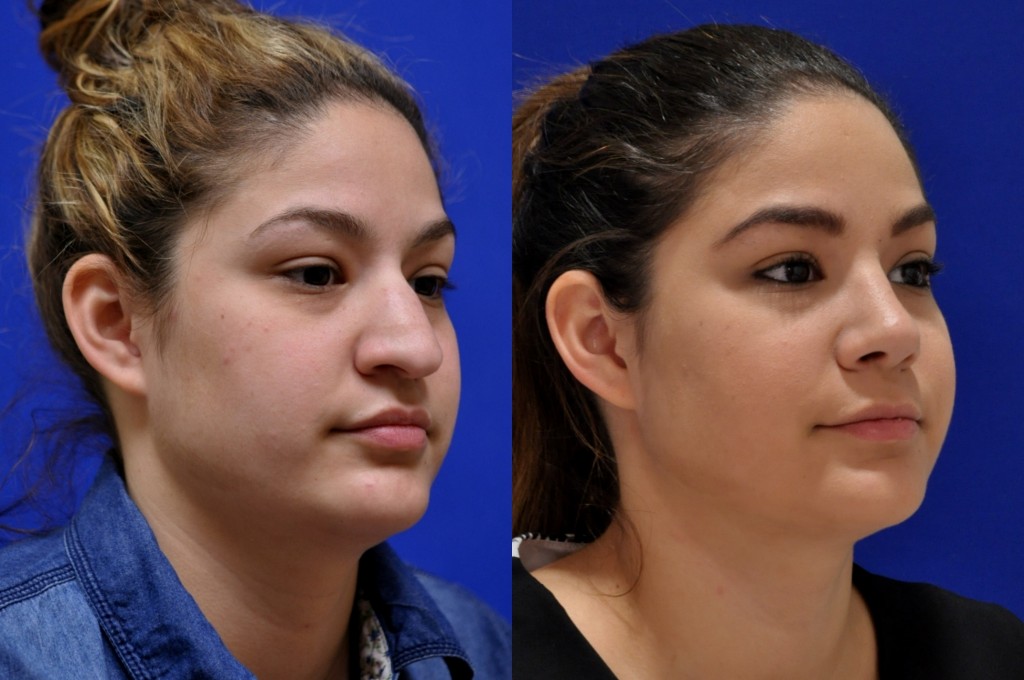 Copyright  J. Todd Andrews, M.D   Rhinoplasty Patient of J. Todd Andrews, MD
Dr. Andrews' extensive training, years of experience, and double-board certification in Facial Plastic & Reconstructive Surgery and Otolaryngology (Ear, Nose, &Throat) provides him with the unique ability and expertise to perform a precise and thorough nasal analysis to understand and appreciate the specific anatomical components of the nose as they relate to each other. As each nose is different and requires a unique approach, it takes this experience and judgment, a well trained esthetic eye, meticulous attention to detail, and precision in technical execution to accomplish a favorable outcome.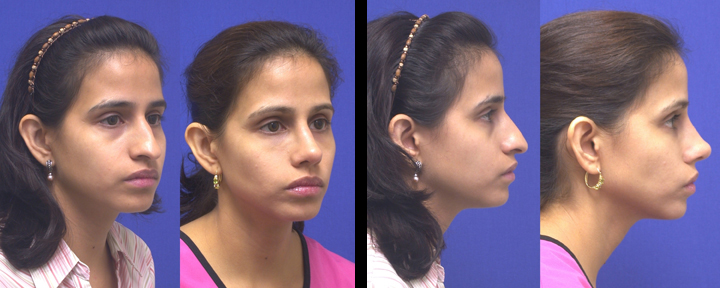 Copyright  J. Todd Andrews, M.D.  Actual Rhinoplasty Patient of J. Todd Andrews, MD
As such, each rhinoplasty is tailored to the individual patient to achieve a proportionally balanced nose that will exist in harmony with other significant facial features. The optimal result also preserves, if not enhances, the function of the nose so that the patient breathes more freely and more comfortably.
Not all nasal surgery is performed specifically to change the appearance of the nose.  Functional nasal surgery is performed to correct structural abnormalities that cause a variety of symptoms including among others nasal obstruction, congestion, dry mouth when sleeping, and snoring.  These types of functional nasal procedures, often reimbursed by medical insurance, include septoplasty(repair of a deviated septum), repair of nasal valve collapse, turbinate reduction, and open reduction of a nasal fracture. Here too, Dr. Andrews' specialty training, years of experience, and double-board certification uniquely qualify him to perform functional nasal surgery.
Copyright  J. Todd Andrews, M.D.  Actual Rhinoplasty Patient of J. Todd Andrews, MD
With each patient undergoing rhinoplasty, Dr Andrews' primary objective is to understand his or her interests and concerns related to possible expectations and overall goals of the  surgery.  During the initial interview and assessment visit, Dr. Andrews carefully evaluates both the internal and external features of a patient's nasal anatomy. It is during this internal assessment that Dr. Andrews can appreciate how the anatomical components of the nose lie in relationship to each other. It is often a structural misalignment or disproportion of these components that account for either a functional deformity or an unwanted esthetic appearance.
Through the technological advancements in computer imaging, Dr. Andrews can simulate a potential outcome of surgery that the patient can see and study to ensure that both surgeon and patient are envisioning the same planned visual result. While computer imaging is not a guarantee of results, it is a great benefit in preoperative planning and can assist the patient and Dr. Andrews in communicating about what is a reasonable outcome for the nasal surgery.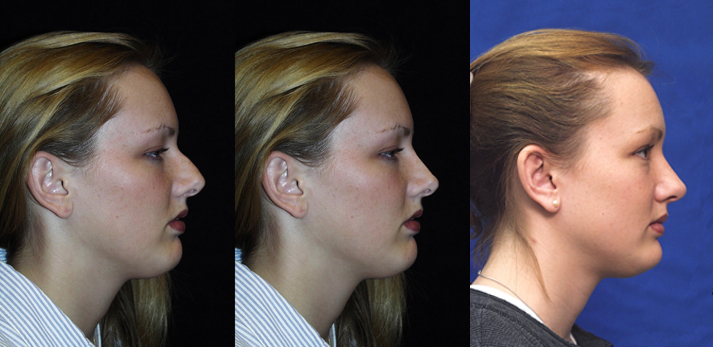 Before Treatment

Computer Simulation of Rhinoplasty

After Surgery w/ Dr. Andrews
Copyright  J. Todd Andrews, M.D.  Actual Rhinoplasty Patient of J. Todd Andrews, MD
This session is also helpful in establishing and communicating what is not possible from surgery. That is, occasionally patients have envisioned changes that in reality are not feasible to achieve with surgery.  This computer session is very helpful in identifying these types of situations.
With reasonable expectations established, Dr. Andrews can then take careful measurements and plan the variety of available surgical techniques to accomplish a result that is as close as possible to the goal simulated appearance.
Copyright  J. Todd Andrews, M.D.  Actual Rhinoplasty Patient of J. Todd Andrews, MD
As such, each rhinoplasty outcome is individualized to each patient to achieve a proportionally balanced nose that exists in harmony with other landmark facial features while preserving, if not enhancing, the function of the nose so that breathing is free and comfortable.
With 24 years of experience in performing rhinoplasty, Dr. Andrews has encountered  many challenging combinations of nasal anatomy and is prepared to utilize this experience to effectively address the challenge at hand for each patient.
Copyright  J. Todd Andrews, M.D.  Actual Rhinoplasty Patient of J. Todd Andrews, MD
The best candidate for rhinoplasty is a physically and psychologically healthy patient who is interested in changing the appearance of the nose and understands the aforementioned information.  During the consultation, he or she candidly discusses with Dr. Andrews what is bothersome about the nose, and understands through the course of the consultation what surgery can and cannot achieve.  As such, he or she has realistic expectations for the outcome of surgery.
Each patient is encouraged to provide a full history of nasal function, including any history of difficulty breathing through the nose, infections, allergies, etc.  We wish ultimately for the nose to both look good and function well.

Augmentation Rhinoplasty
Whereas many rhinoplasty procedures involves overall reduction in the size of the nose, some patients benefit from augmentation rhinoplasty.  These patients typically have a nose that appears flattened to the face.  The size of the lower third of the nose is usually smaller than ideal for the patient's other facial dimensions.   This renders other features like the lips and lower facial third to appear too large and results in a face that is "lower-third heavy."    Following strengthening of the tip infrastructure through augmentation rhinoplasty, the more sturdy appearing nose complements the other strong features.  The composite face in the male appears more rugged, masculine, and attractive.
Copyright  J. Todd Andrews, M.D.  Actual Rhinoplasty Patient of J. Todd Andrews, MD
Flattened, poorly supported, sometimes hanging tip cartilages often cause the nose to appear long. Interestingly, augmentation and strengthening of the nasal tip structure renders an appearance that makes the entire nose look smaller and shorter.

Copyright  J. Todd Andrews, M.D.  Actual Rhinoplasty Patient of J. Todd Andrews, MD

Copyright  J. Todd Andrews, M.D.  Actual Rhinoplasty Patient of J. Todd Andrews, MD
Revision Rhinoplasty
Because of Dr. Andrews' notable interest and experience in rhinoplasty, he is asked to evaluate and treat patients who are displeased with the outcome following rhinoplasty by another surgeon.   In addition to the myriad of variables that the surgeon must consider in normal rhinoplasty, there are multiple new considerations in revision cases.  This includes among other issues the importance of techniques that maximize long term results.   For this reason, revision rhinoplasty is considered one of the most challenging of all plastic surgery procedures and usually performed by a minority of plastic surgeons.
Following Rhinoplasty by Another Surgeon

After Revision by Dr. Andrews            Result Ten Years Later
Copyright  J. Todd Andrews, M.D
WHAT TO ANTICIPATE AFTER SURGERY
After surgery, most patients go home the same day with straightforward easy-to-follow instructions.  Most are pleasantly surprised by how good they feel. This is a result of two IMPORTANT factors:  a) the advanced techniques used by Dr. Andrews and b) the unique customized postoperative regimen that has been devised by Dr. Andrews. Bruising and significant swelling are uncommon, and most  patients only require pain medication for two days to remain comfortable. Thus, by the third day after surgery, most patients are able to work or perform schoolwork from home.  Light exercise is permitted after the first week.  More rigorous exercise is usually permitted by three weeks.  However, contact sports or activities that involve risk of injury to the nose are discouraged for six weeks.
The procedure most commonly  takes place in an outpatient surgery center.  Rhinoplasty usually takes between two and three hours to complete, although more complicated procedures (like revision rhinoplasty) may take longer.
I had two different surgeries with Doctor Andrews, a deviated septum and plastic surgery on my lip. I was really afraid of having any of these procedures, but Dr. Andrews and his staff were fantastic. They are very professional and kind people. I went only to have an estimate for the procedures, but right away I could see how professional and dedicated Dr. Andrews  is to his profession. I first decided to have the deviated septum surgery. One month later, I decided to allow Dr. Andrews to perform the plastic surgery on my lip. I am really happy with the results from both surgeries and I highly recommend Dr. Andrews to you.

-Patient Review, Ratemds.com
FREQUENTLY ASKED QUESTIONS
The appearance of my nose has bothered me my entire life.  I'm 55 now.  Am I too old to have this procedure?
No one is really too old for rhinoplasty.  However, younger patients whose faces are still growing may be encouraged by Dr. Andrews to delay the procedure until the facial growth phase is complete (usually 16 – 18 years of age).
Another doctor has told me that I have a deviated septum.  Can this be repaired at the same time?
Yes.  A deviated septum, enlarged turbinates, chronic sinusitis, a broken nose, and other structural deformities are routinely addressed at the same time as rhinoplasty.  Patients are commonly delighted to experience free nasal breathing  as an added bonus to their primary interest of improving the nasal appearance. In addition, correction of these types of functional problems are often covered by medical insurance.  So if you are bothered by nasal obstruction, recurrent sinus infections, or snoring, notify Dr. Andrews and his staff during the consultation.
I want a nose just like…(Charlize Theron, Michelle Pfeiffer, Brad Pitt, etc.)……  Is that possible?
Most attractive noses on attractive faces are physically appealing because of proportional balance and harmony with the other landmark facial features.  Though a desired "Hollywood nose" will occasionally actually "fit" on a particular patient's face, this is not common.  There really isn't a single nasal shape and size that looks attractive on every face. The computer imaging session allows each prospective patient to understand and  visualize this concept and actually discuss with Dr. Andrews the esthetic advantages and disadvantages of a variety of contour options. Though not a guarantee of exact results, this computer imaging session allows an effective forum for communication and preoperative planning. Open communication about your interests is essential to the ultimate goal of patient satisfaction.  Though perfection may not be a reasonable objective, the goals of rhinoplasty is to optimize your appearance, simultaneously improving the nose esthetically and functionally. Together, you and Dr. Andrews can find a look that is right for your face or, on occasion, understand that surgery may not be able to accomplish what you have envisioned.

BEFORE & AFTER PHOTOGRAPHS of Dr. Andrews' Patients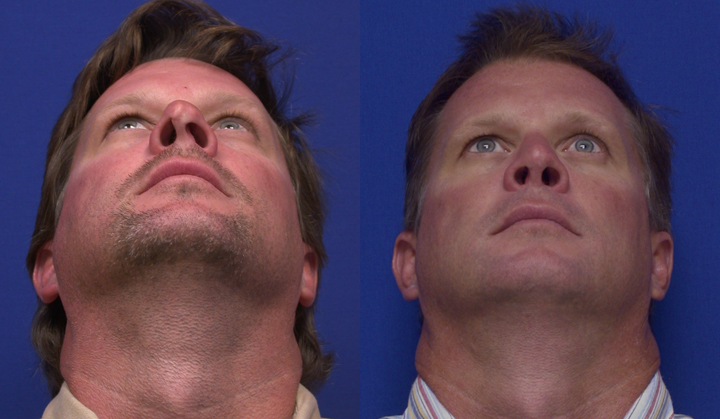 Copyright  J. Todd Andrews, M.D  SEVERELY TWISTED TIP CARTILAGES
The base view of the nose is one of the most revealing with regard to tip anatomy.  The severely twisted cartilages of the tip infrastructure have been aligned and proportional balance established. Though not perfectly balanced, the nostrils have been brought much closer to symmetry.  Importantly, the functional integrity of the nasal tip was also treated to allow this patient to breathe more easily through his nose.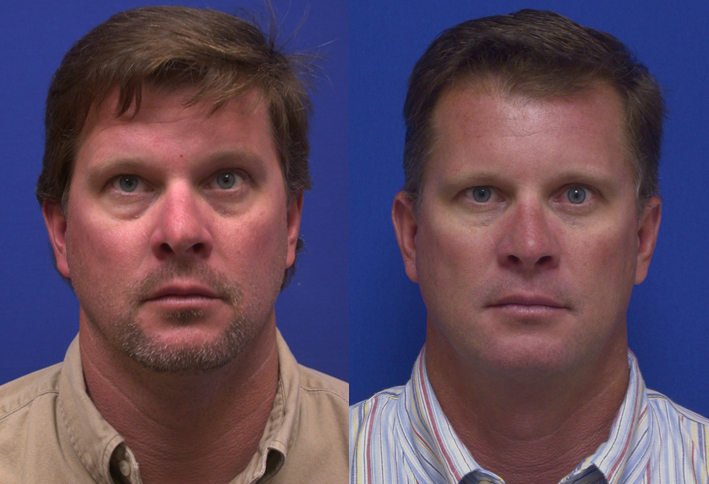 Copyright  J. Todd Andrews, M.D
Asseen in this photo and the photo above, the tip cartilages are asymmetric in shape and size and there is a severe twist in their alignment.  The resultant alternating shadows and light reflection are distracting and create disharmony in the middle facial third.  Following rhinoplasty, balance, proportion, and symmetry have been restored and the observer's eye is drawn to the patient's eyes rather than the nose.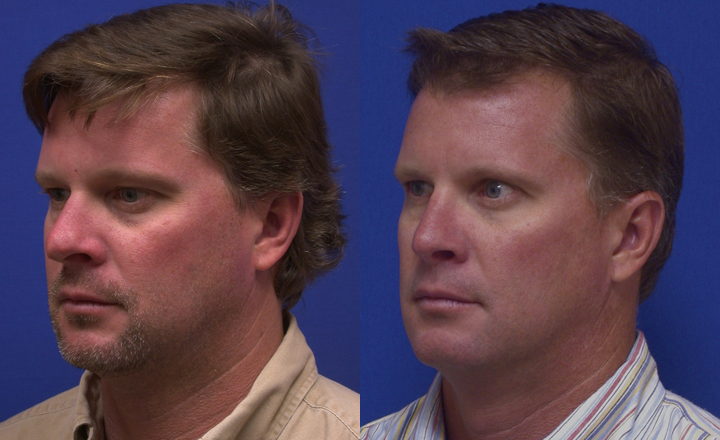 Copyright  J. Todd Andrews, M.D
In the profile view, two important improvements have been achieved.  The nostril opening has been resized and a very straight nasal bridge has been fashioned.  The profile remains strong and masculine.
Prior to rhinoplasty, the nose appears too large and strangely shaped for this face.  Following rhinoplasty, the nose fits the face and doesn't distract the observer from noticing other attractive features.  The smaller nostril opening and improved shape of the tip are more visually appealing.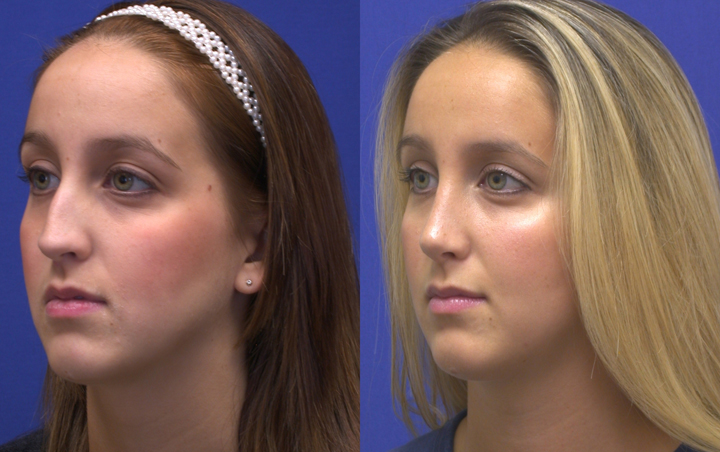 Crooked Acquiline Nose
Thin skin allows the observer to appreciate well the meandering shape and size of the nasal bones and cartilages.  Following rhinoplasty by Dr. Andrews, the tip has been rotated and projected to balance with other facial features.  The dorsal hump composed of bone and cartilage has been taken down.  Fascia grafting between these elements and the overlying skin allows the nose to appear softer.
Copyright  J. Todd Andrews, M.D
The crooked alignment of the esthetics structural elements of this nose are highly visible through thin skin.  In patients with thin skin, there is stark contrast between light reflection and shadowing to reveal the details of the underlying anatomy.  This situation requires from the surgeon even more commitment to exacting measurement and technique.  Following rhinoplasty by Dr. Andrews, balance has been established through realignment of upper, middle, and lower thirds of the nose.  This is most appreciated by the straightened light reflex along the dorsum.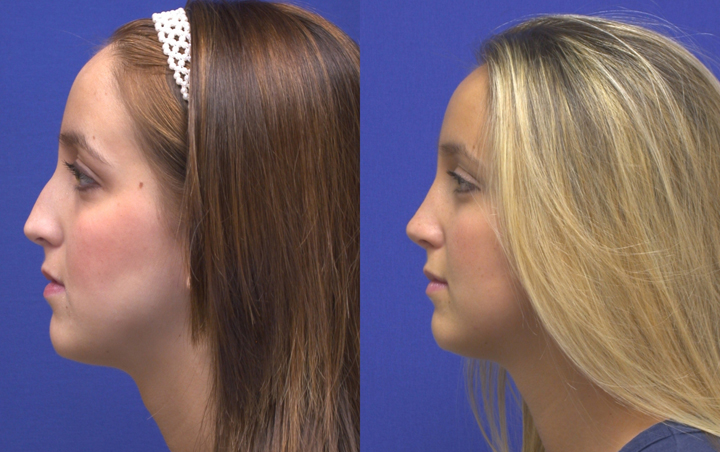 Copyright  J. Todd Andrews, M.D
The underprojected, downturned tip is accentuated by a dorsal hump.  These anatomic details combine to make the nose and the face appear elongated.  Based on a computer imaging session where the patient expressed interest in lifting the tip, the esthetic goals have been reached and the patient is very pleased.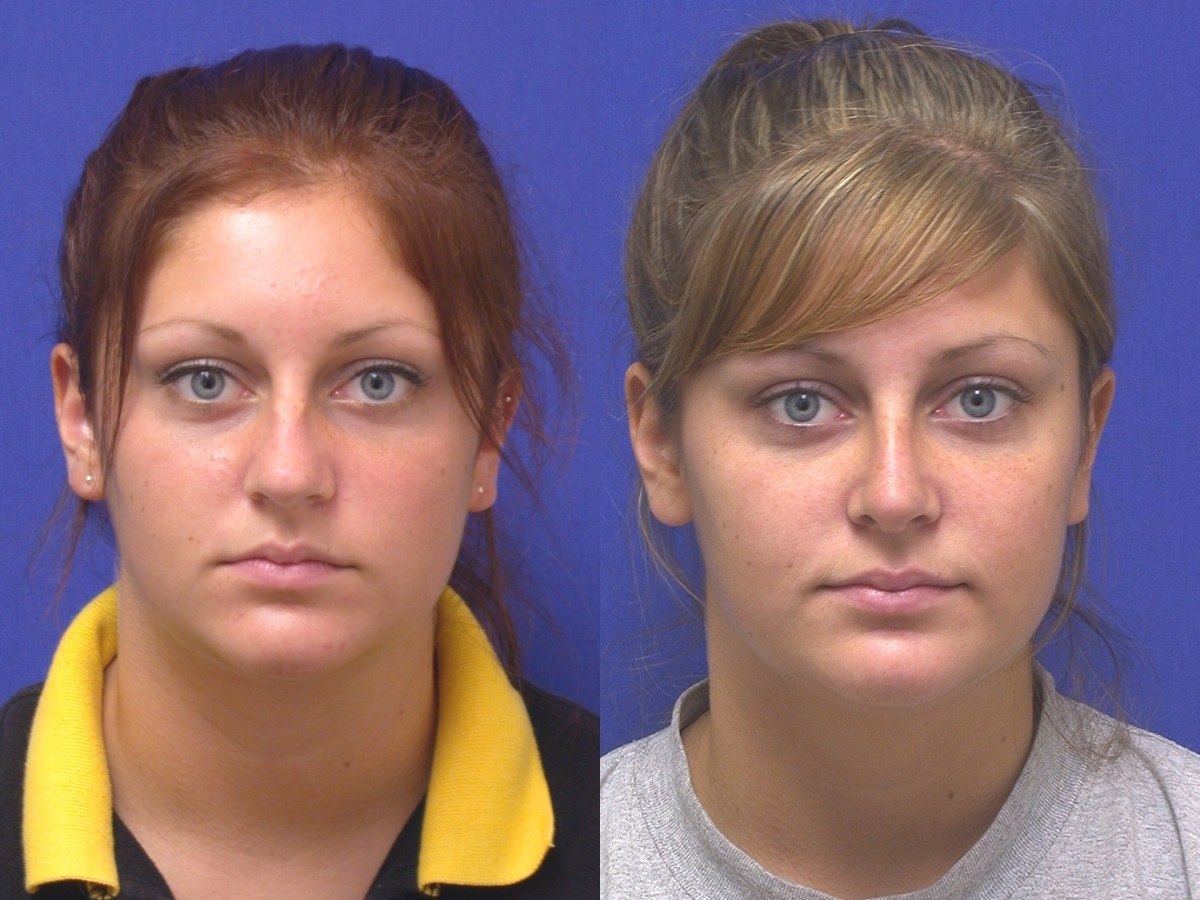 Copyright  J. Todd Andrews, M.D
The Tilting Nose
In some patients, the anatomic components of the nose are arranged so that the entire nose seems to tilt to one side.  In this patient, the nose tilts from her left to right.  The nasal bones have sharp carved margins sometimes referred to as "horns." Delicate repositioning of the soft tissue elements is paired with reshaping of the bony elements to achieve straightening.
Copyright  J. Todd Andrews, M.D
In addition to the nasal tilt, this patient's tip was overprojected and the middle nasal third was more narrow than preferred.  The slight hump in the upper one-third and the narrowing in the middle third was corrected to create an elegant light reflex and nasal form.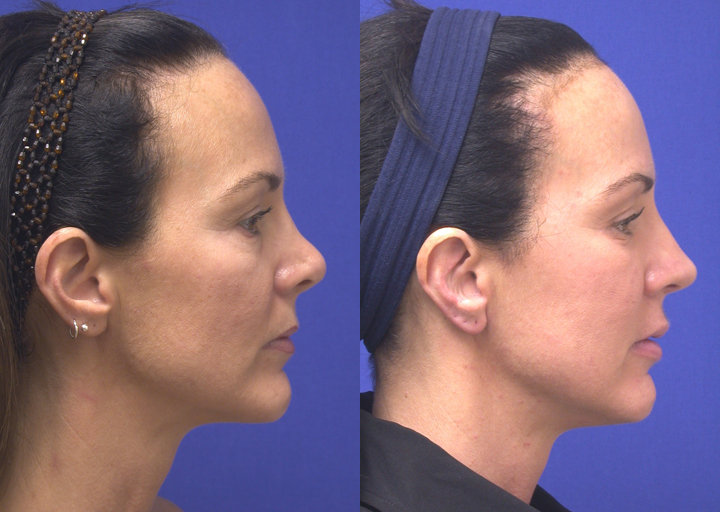 Copyright  J. Todd Andrews, M.D
Revision Rhinoplasty
Because the angle between the nose and the upper lip is more than 120 degrees, the tip on the left photo is referred to overly-rotated.  The lower half of the nasal bridge is rounded in what is referred to as a poly-beak deformity.  These are two of the more common reasons that patients pursue revision rhinoplasty.  Following revision rhinoplasty by Dr. Andrews, the nose on the right fits the face and confers a more elegant appearance to the face.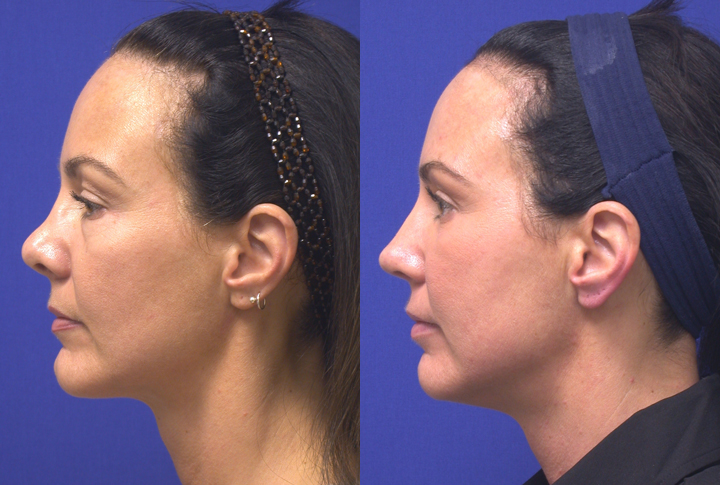 Copyright  J. Todd Andrews, M.D
In the patient's previous procedure by another surgeon, excessive bone and cartilage was removed from the bridge, resulting in an unattractive depression in the middle third of the nose that is called an inverted V deformity.  This missing segment is further emphasized by the gap in the light reflexes between the upper and lower thirds of the nose.  The tip cartilages were oddly shaped and overly rotated, causing a pug appearance.  Following revision rhinoplasty with bone and cartilage grafting, a more pleasing form has been reestablished.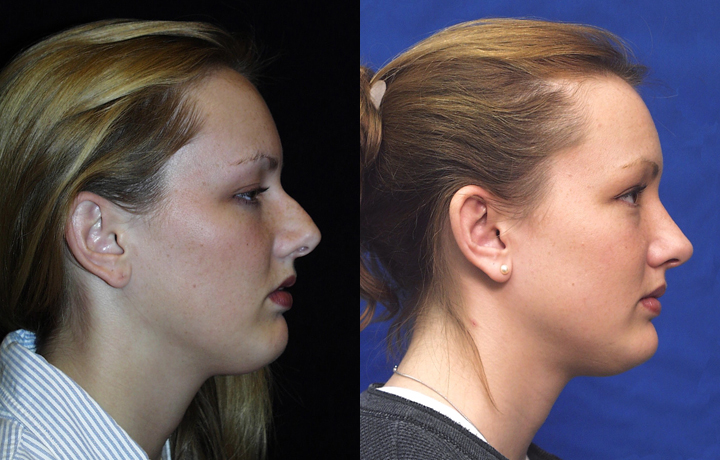 Copyright  J. Todd Andrews, M.D
Large Broad Hump, Boxy Tip
This combination of nasal features is a common complaint as it confers a masculine appearance to an otherwise feminine face. Following rhinoplasty by Dr. Andrews, the patient's profile is much more pleasing and consistent with her other facial features.
Copyright  J. Todd Andrews, M.D
Because the tip is overly rotated and boxy, the nose is the prominent feature apparent from this oblique view.  Following rhinoplasty by Dr. Andrews, there is a more graceful extension of the left brow into the dorsum of the nose to the tip.  The irregular cartilage alignment between the nostrils has been corrected so that the dimple here is eliminated.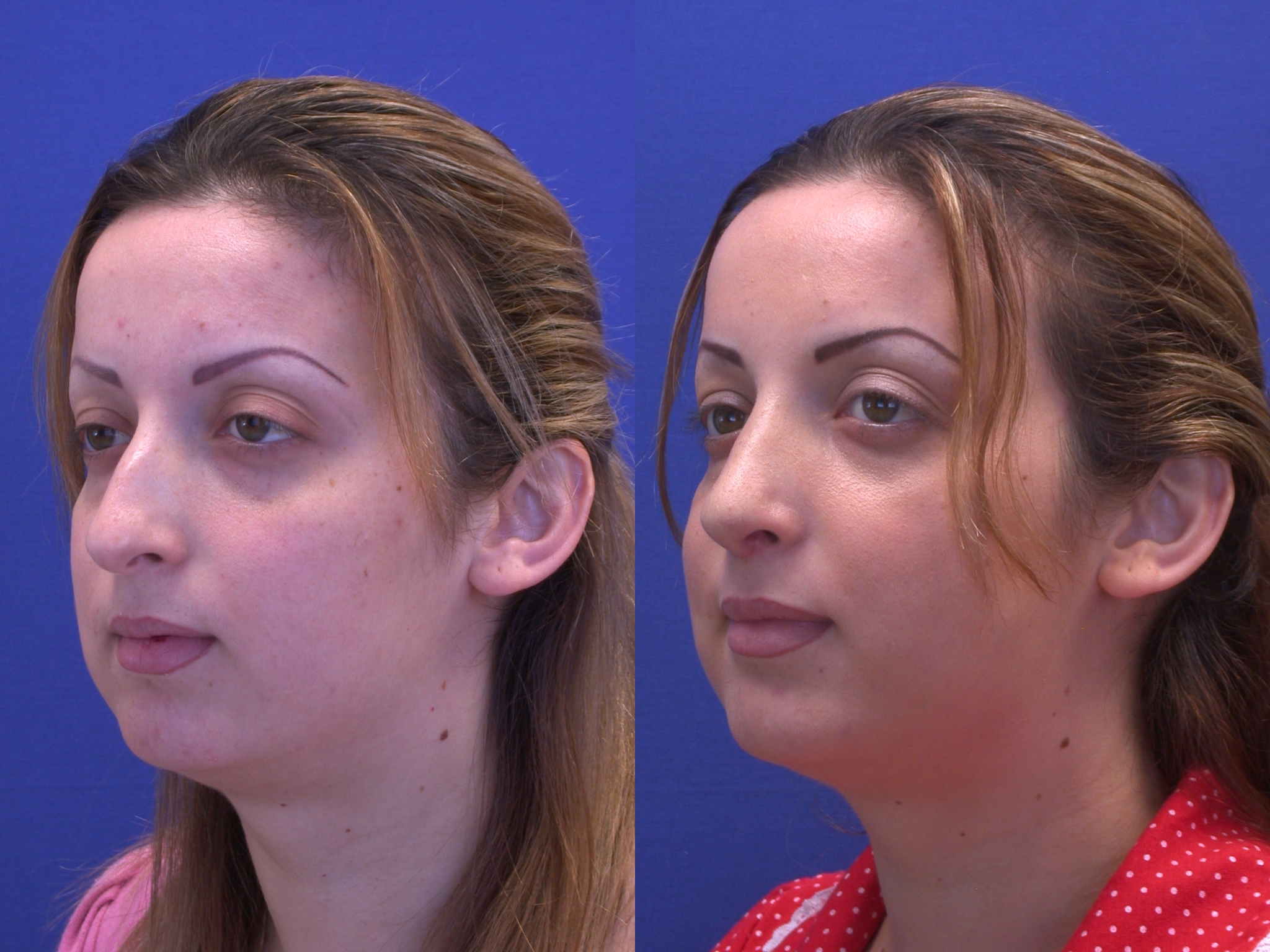 Copyright  J. Todd Andrews, M.D
Hump with Down-Turned Tip
This young woman was bothered by the rounded down-turned shape of the tip that she described as "hanging down."  The tip has been recontoured and subtly lifted to provide a pleasing shape without creating an "operated" appearance.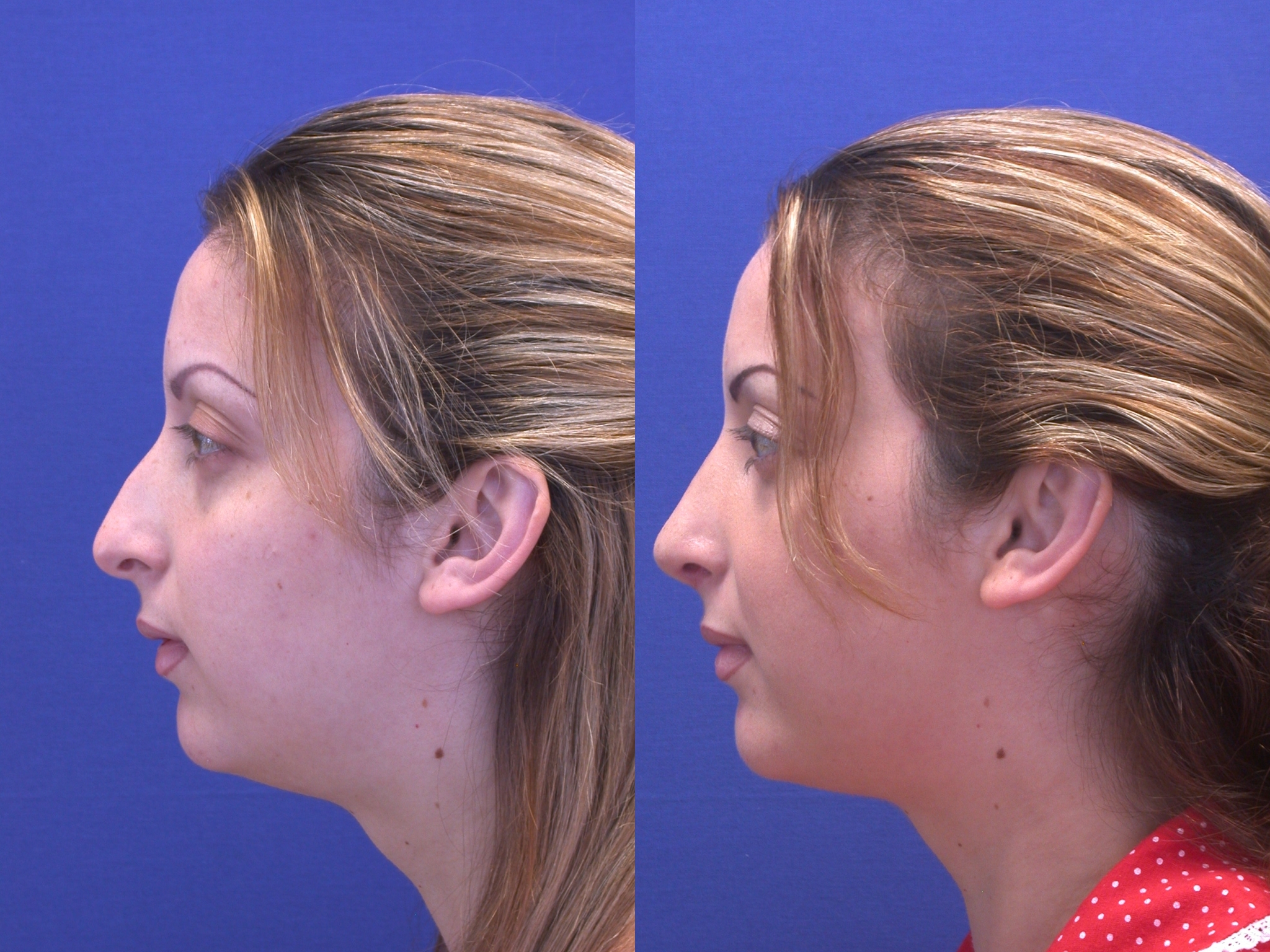 Copyright  J. Todd Andrews, M.D
In the lateral view, the hump has been addressed by simultaneously reducing the fullness in the region of the hump and augmenting the depression just above the hump.  This creates a pleasing profile that appears natural and balanced with other facial elements.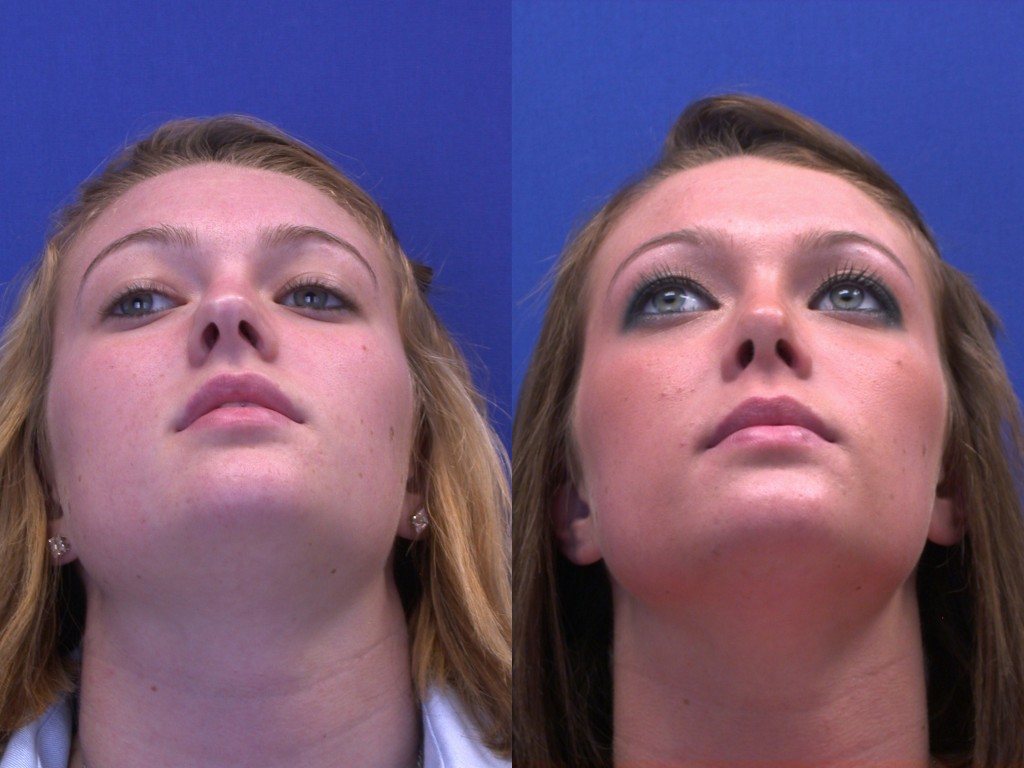 Copyright  J. Todd Andrews, M.D
In the base view, the tilt of the nose to the  patient's right is clearly demonstrated.  Following rhinoplasty, the tip axis  is aligned in the midline in a manner that makes the nostrils more symmetric.
Copyright  J. Todd Andrews, M.D
Following rhinoplasty, each of the patient's concerns (symmetry, dimension, and alignment ) have been addressed.  The nose is straighter and the nasal tip has been completely reshaped to achieve a more feminine appearance.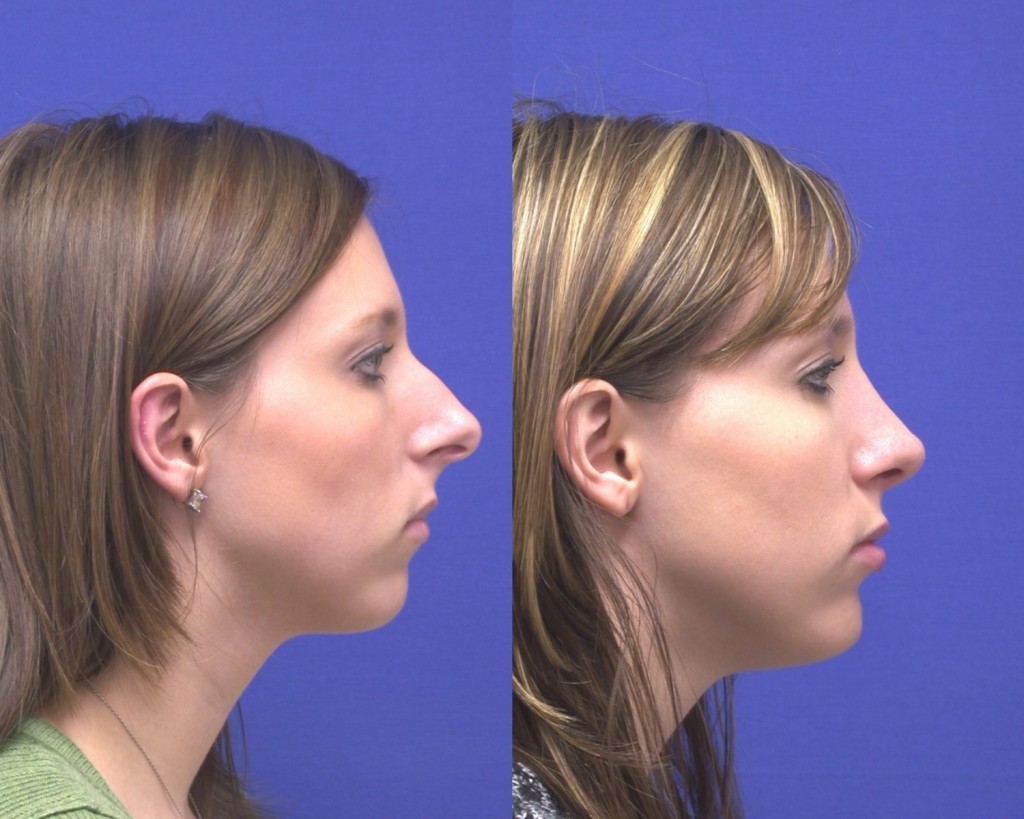 Copyright  J. Todd Andrews, M.D
This overprojected nose with thin skin was retropositioned and the tip was completely rebuilt to address significant collapse that created both esthetic and functional problems.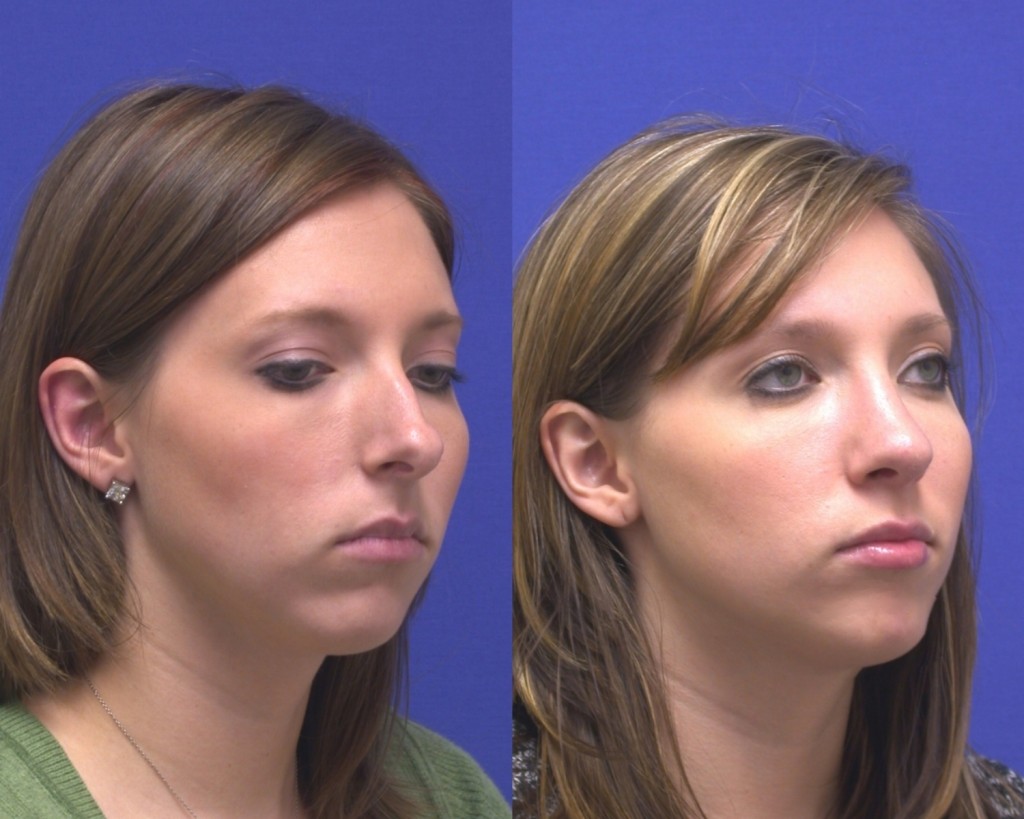 Copyright  J. Todd Andrews, M.D